Product Description
1   Do you want to reduce stress in your organisation? The Free from Stress for Life programme can make this happen, by sharing techniques to replace stress with strength.  It could be just the ticket you're looking for…
Do you need to improve productivity?
Do you have high levels of absenteeism or presenteeism?
Do you feel unsure of the best way to support your staff?
Do you have any stressed employees?
Do you want them to increase effectiveness and wellbeing?
2   How much is stress costing you or your organisation?
In time?
In money?
In resources?
In health or happiness?
3   Would you like to have the resources in place to overcome stress successfully and for this to last in the long-term?
If you answered 'yes' to that question, then please do read on…
4   Why Remove Stress?
To increase staff retention and profit.
To empower your people to create success instead of stress.
To improve effectiveness and wellbeing.
5   What causes stress?
Here are just 10 factors that can cause stress:
An unpleasant culture at work
An overwhelming workload
A lack of support at work and/or at home
A lack of regular, high-quality sleep
An unhealthy diet
Relationship difficulties
Health problems
Bereavement
Past experiences that haven't been dealt with successfully
Daily life
Please Note: This process has recently become CPD Accredited with the CPD Standards Office. It takes approximately 6 hours over 12 weeks, (30 minutes per week). Therefore it is worth 6 CPD points or hours. So if you or your team are looking for CPD courses, then look no further…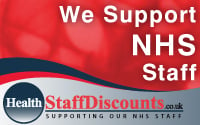 We are keen to support stressed or exhausted staff in the NHS. (
NHS stands for the National Health Service is the publicly funded national healthcare system in England).

I have worked in the NHS previously and knowing how difficult it can be to take good care of yourself when you care for others. Here is the link to our unique staff discount page where we offer 20% discount; check out the page then just get in touch with us on [email protected]
6   What are the effects of stress?
Stress is a symptom in response to situations that we are fearful of or situations that are often out of our control.
It is something that triggers all kinds of unhealthy reactions within our bodies, and we all know what they are, from increased risk of heart disease, panic attacks, disengagement, negativity, depression, exhaustion, sleep problems, the list goes on and on.
7   So, what is the solution to this problem?
Stress has sadly become a major part of life for us all, and my business is dedicated to ensuring all those who want to overcome their stress can do so, by developing new habits and coping strategies, that will last a lifetime. We all hear so much about stress, and we want things to change, however, if we don't know HOW to do things differently, nothing CAN change.
8   So how can stress be overcome?  How can we replace stress with strength?
I have a complete proven process which takes you from stress to strength and is available immediately.  It is affordable and easy to use. Your organisation can take it on board and provide it for those who would like to benefit from some support and guidance, for example, you may like to provide it for:
Those who are feeling stressed right now
Those who have been absent with stress and are returning to work
Those who are not motivated or as productive as you would like them to be.
Too many people are working 'all the hours' with no change in sight, as well as often having stressful lives outside of work. This is not good for anyone whatever their age, role or situation and is not sustainable. Things will not just stay the same, they will in fact deteriorate.  Something MUST be done. ————————————————————————————————————————————-
…very happy with this programme…
"I am very happy with this programme and I am finding it very worthwhile."
————————————————————————————————————————————-
9   What are the benefits of the Free from Stress for Life Programme?
Your team can:
learn how to replace stress with calm
increase their self-confidence
discover what they're excellent at and work to their strengths
learn how to be assertive and be comfortable doing so
find out just where happiness is and how to be happy
increase their self-belief and become stronger in difficult situations
start to increase their luck
improve their time management
become more motivated and effective
value themselves  more highly
start to improve their memory
be able to create more balance in their life
————————————————————————————————————————————-
"An opportunity to reflect without feeling guilty."
"It is an opportunity to reflect in a structured way in a safe environment, without feeling guilty.  It gives me time to think and is improving my personal development."
————————————————————————————————————————————-
10   Who has this programme helped?
Those who have been working too many hours and felt stressed as a result
Those having relationship problems
Those who have been abused; they have been able to gradually move on successfully
Those who have had difficulties or grievances at work
Those who have been bereaved; they have been able to find some inner peace
Those who feel they have to put up with their stress, yet secretly long for this to change
11   What else is included?
Alongside the 12 secure, weekly, online modules with the benefits as above, there are:
3 x Monthly Q&A online Group Meetings (30 – 60 minutes each)
12 x Weekly email reminders describing the next topic coming up
a Forum facility to share thoughts, ideas and experience
Email contact as required
Access to our Feel Real Community
This is a fully complete package to support your people in positive bite-size chunks enabling lives to be transformed in a most time efficient and cost effective way.
There are two options of support:
A   GROUP SUPPORT (all as above)
B   INDIVIDUAL SUPPORT (Full online individual responses each week)
12   What are the benefits of removing stress?
When we remove stress we become much more engaged at work and at home; we feel empowered, happier and healthier human beings. Therefore it is vital that stress is removed. By removing stress throughout your organisation, you'll create huge positive changes for all those involved, creating a completely new, invigorating, effective and upbeat culture.
So, when can we start this process?
This process is available right now; the strategies have all been thoroughly tested and proven since 2003, and the investment is highly competitive, per person.
My business is dedicated to ensuring that you and your people learn and develop the coping strategies and new habits necessary to replace Stress with Strength.
You can get started straight away by simply clicking one of the 'Buy Now' buttons below for immediate access to the programme.
Each programme with GROUP SUPPORT purchased individually is just $375 including VAT.
Each programme with INDIVIDUAL SUPPORT is just $750 including VAT.
If you would like to roll out this programme within your organisation, to improve the wellbeing and productivity of your staff, simply get in touch as I can provide a special rate for multiple purchases.
So, call us on [email protected] to start supporting your staff (risk-free!) as soon as possible.
When you provide the support to help your team proactively remove stress, your organisation suddenly becomes much more productive and your people become happier, thus staff retention and profit will both increase.  A win-win situation for your staff and your business.
I look forward to hearing from you.